Teaching Peace, Giving Peace
The spirit underlying the holiday season is beautiful—celebrating the sense of gratitude, generosity, abundance, and relatedness that give our lives meaning and joy. It is a good time to reflect and think about how we can help bring peace and compassion to our world.
Many of you who have read my book, The World Peace Diet, have said you'd like to help spread the message and we are putting together a way for you to do so. We have a dream, and the dream is already beginning to materialize. The dream is of a growing network of people who are putting on classes on The World Peace Diet through their local churches, community organizations, colleges, veg societies, continuing education institutions, and peace, environmental, and social justice groups. One six-week class in Cincinnati has been successfully completed, and we see many more unfolding throughout North America and the world. Ideally, the classes allow for discussion and sharing of the main ideas in The World Peace Diet, together with teaching basic ways of preparing healthy and nutritious plant-based meals. Emphasizing both the theory and practice of the World Peace Diet, we see that we can build a movement that can transform our culture from the grass-roots level, furthering the benevolent revolution our culture yearns for.
If you would like to find out more about this opportunity, please contact us. We are putting together a course outline and can provide books at a discount and help with ideas to encourage people to sign up for the class. We suggest that you be paid for facilitating the class, through course fees or donations. Please contact us if you have ideas or questions about these opportunities, and if you'd like to facilitate a class in your area. The time for a grass-roots educational movement to spread the message of the World Peace Diet is upon us. It addresses the roots of all our dilemmas: global warming, world hunger, pollution, disease, water shortages, deforestation, species extinction, war, domination of women, terrorism, drug addiction, and the pervasive mentality of reductionism and exploitation that drives our problems. By presenting both the underlying understanding of why plant-based eating is essential with some practical tips, the classes can contribute to the transformation of our world. Thankfulness is not just words, but actions. Can we build a movement that future generations will be thankful for? I believe we can.
The last couple of months have been amazing! In addition to the beautiful 4-day retreat on developing spiritual intuition that we were privileged to facilitate at Unity Village in Missouri, and our ongoing music, art, and education ministry through progressive churches, we were able to present multiple lectures on The World Peace Diet in the following cities: Cleveland, Canton, Ann Arbor, Chicago, Madison, Cedar Rapids, Fairfield, Lawrence, Kansas City, Cincinnati, Boston/Concord, and Nashville. Quite a few Radio Interviews for audio files of these. Madeleine and I are deeply grateful to all the enthusiastic and caring people in all these cities for your creativity, dedication, and selfless giving to the cause of peace and kindness. Your splendid efforts are transforming lives and bringing blessings to our world. Our schedule continues to Atlanta, Gainesville, and on into Florida for the winter months in our trusty rolling home, with a trip to San Francisco and Ann Arbor in January. See our tour schedule for details, and please let us know if you'd like us to put on an event in your area.
We have some more good news as well.
1. We have decided to make The World Peace Diet available as Free download. The entire book is now available on our website, and as a free printable PDF file so anyone can download and read the book and help transform our world.
2. In addition, we have also decided to make the companion audio CD, Living In Harmony With All Life, available as a Free download as well. Again, by going to the website, anyone can download the entire 75-minute discourse on The World Peace Diet as an MP3 file, and share it with friends and family. And don't forget we have another free download: the delicious meals of Madeleine's "Intuitive Cooking" available at World Peace Diet.
3. Madeleine has created another painting which is available as signed and numbered museum-quality prints. It is entitled, "The Wedding" and is a beautiful watercolor Painting of Two Zebras.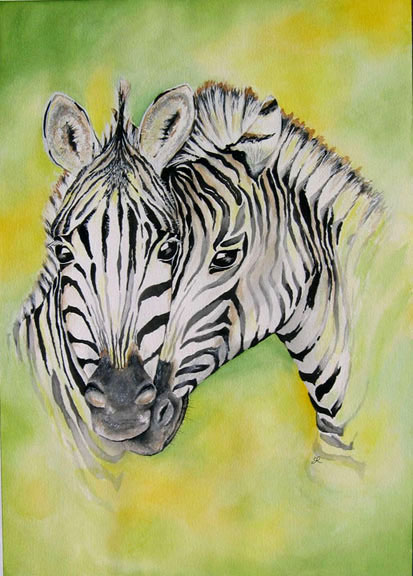 4. Sales for The World Peace Diet continue to increase every month as the word of its powerful transformative message spreads. Many people feel that one of the most powerful ways they can help the world is to spread the word by giving books and/or CDs to others, or promoting or selling it themselves. The World Peace Diet makes a terrific holiday gift, and toward that end, we have Quantity Discounts available. The books are signed and include "Intuitive Cooking" by Madeleine and for 5 books, 5 free CDs ($78 postpaid), and for 10 books, one free CD ($133 postpaid). The book is in its third printing now, and also, we're delighted to say, is being translated into Chinese and will be available in China as well before long.
The music and art also make great holiday gifts – there are 7 CDs of original piano music to choose from, as well as Madeleine's artcard sets, art prints, and hand-made lace. All the music is available through iTunes and other download services now, as well as through CD Baby and through our website, http://willtuttle.com. And for the special person or couple in your life, we can create an Individualized Music & Art Portrait (a custom CD of original piano music with a watercolor painting by Madeleine) if you send us by mail or e-mail a photo of the recipient(s). Send us an email for more information.
Deepest thanks to each and every one of you for your efforts to bless others and build a new society of kindness, peace, and harmony. We hope our paths will cross with you and people you know, so please check our Tour Schedule from time to time.
And during this holiday season, let's especially remember the animals who suffer so extremely behind the curtain of our culture's denial. Please go to our Worldwide Prayer Circle For Animals at Circle of Compassion and put yourself on our improved world map, and find out more about joining us in creating a consciousness of kindness for all living beings.
That's it for now. Thanks for being the blessing you are!
Will & Madeleine
"The greatness of a nation and its moral progress may be seen by the way its animals are treated." Mahatma Gandhi
"At the moment our human world is based on the suffering and destruction of millions of non-humans. To perceive this and to do something to change it in personal and public ways is to undergo a change of perception akin to a religious conversion. Nothing can ever be seen in quite the same way again because once you have admitted the terror and pain of other species you will, unless you resist conversion, be always aware of the endless permutations of suffering that support our society." –Sir Arthur Conan Doyle