The food expression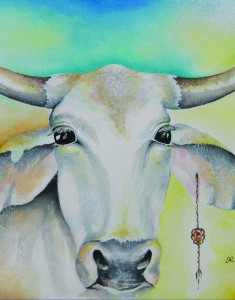 VegInspiration
Though it appears that we are mere finite beings eating food, from another perspective we can see the infinite eternally feeding itself with itself. Through this act of partaking, we open, embrace, and actually embody the infinite order as a unique expression of itself, which is us, these human beings who are eating.
This is an expression of the profoundest love. When we eat, we are loved by the eternal and mysterious force that births all life, that makes present all who ever preceded us, that manifests itself ceaselessly as us and experiences life through us, with a love that thoroughly gives of itself to us, to we who are this force. It is a love that our intuitive heart can sense and respond to and deeply, ecstatically appreciate, but that our rational mind can barely begin to comprehend.
Prayer Circle for Today
Today let us send our prayers to all animals vivisected in laboratories and classrooms.
May compassion and love reign over all the earth for all animals used in experiments. Dear primates, dogs, cats, mice; rats, pigs, lambs, rabbits, frogs, and all of you who are imprisoned in cages, tortured in useless experiments, separated from your loved ones, and suffering constant pain, fear, and loneliness, sometimes for many long years.
Dear ones, we bear witness to your suffering, we take action to permanently end it, and we continually send out an energy field of love and compassion to comfort you and to transform the hearts and souls of those who support this violent oppression.
We send our tears and our prayers on wings of love to you. Our love is all around you.
Compassion encircles the earth for each of you and for all beings.
( 7 daily prayers by Judy Carman www.peacetoallbeings.com)
www.worldpeacediet.com – our daily VegInspiration For The Day
www.circleofcompassion.org – our Prayer Circle For Animals Weekly Update
www.facebook.com/groups/prayercircleforanimals – our Prayer Circle For Animals Facebook Group
www.worldpeacemastery.com – our online self-paced WPD Facilitator Training
www.facebook.com/groups/worldpeacediet – our WPD Facebook Group
Original watercolor painting by Madeleine Tuttle madeleinetuttle.com