Dr. Will Tuttle
We are all aware that we are living in critical times, and many of us have received the calling to contribute to the evolutionary awakening of humanity as best we can. For this reason, I wrote The World Peace Diet ten years ago, imagining that there might be people open to making the connections between our culture's routine abuse of animals for food and other products, and the intractable problems of environmental devastation, world hunger, war, oppression, disease, and social injustice. To my ongoing gratitude, the vegan call issued by The World Peace Diet has been heard and amplified through countless generous efforts, and the book is now a bestseller published in at least fifteen languages worldwide, and the book's momentum continues to grow.
In the midst of this, from nearly the beginning, and through it all, Culinary Olympic award-winning Chef Mark Stroud and nationally known yogini, and founder of World Peace Yoga, Anna Ferguson in Cincinnati have responded with a r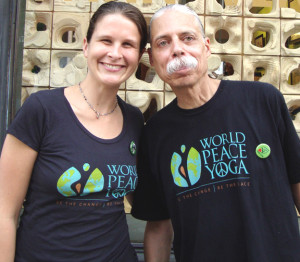 are enthusiasm that doesn't fade, but continues to grow stronger and brighter, always finding new and creative ways to share the World Peace Diet message of compassion: through instituting the first World Peace Diet study groups that have been meeting bi-weekly for eight years now, through creating the World Peace Yoga studio based on the World Peace Diet teachings of ahimsa, and teaching and certifying yoga practitioners, through originating the Jubilee Peace Fest, an annual festival of spiritual vegan living, and through numerous other ways, they are furthering the World Peace Diet message and working diligently and joyfully to build a robust vegan community in Cincinnati and beyond.
In addition to all this, I'm delighted that Mark has found time to create the World Peace Diet Cookbook, and Anna to write the World Peace Yoga book, and that they are creating a World Peace Diet Cuisine vegan food line. I'm pleased that my spouse, Madeleine, and I have been able to contribute in some degree to these efforts; Madeleine is providing the introduction to the Mark's cookbook, including nine of her original recipes, and I'm offering a prologue and epilogue to it, plus a foreword to Anna's World Peace Yoga book.
Mark and Anna, in honor of the 10th Anniversary of The World Peace Diet, have launched an Indiegogo crowdfunding campaign to generate funding for these three projects, which are all designed to bring the vegan message of health, freedom, peace, and delicious food to our world in new and exciting ways, building on the spiritually- and culturally-oriented message of The World Peace Diet, and assisting it to reach more people via more mediums. I believe that these three projects—the World Peace Diet Cookbook, the World Peace Yoga book, the World Peace Diet Cuisine line of healthy vegan food products—are remarkably inspiring, and deserving of broad support. I'm grateful to Anna, Mark, and the whole Cincinnati vegan community for nearly ten years of unflagging devotion to the cause of bringing more loving-kindness to our world, and their ongoing de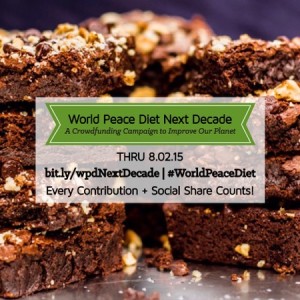 dication to building a movement that is actually transforming our society in positive ways at every level. I encourage all of us, whatever our backgrounds, to unite behind this campaign that Anna and Mark have created, and to back it enthusiastically.
Please visit the campaign page today to support this effort. You can view the perks, give whatever feels appropriate, and encourage others to get involved. And, to stay updated to The World Peace Diet Next Decade campaign, please RSVP and invite your friends to the virtual Facebook event. You may also find "Celebrate The World Peace Diet's Next Decade"-aligned accounts on Facebook, Twitter and Instagram.
Together, we can continue to positively transform our world. Our lives, and the lives of those we love, depend on this.
 Dr. Will Tuttle