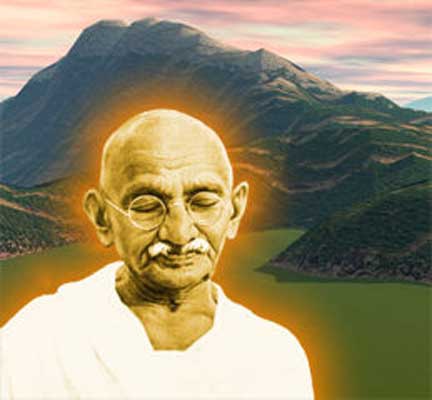 Dear Friends,
As many of you know, the Season For Nonviolence begins on January 30, anniversary of Mahatma Gandhi's assassination, and runs for 64 days, to the anniversary of Martin Luther King, Jr.'s assassination on April 4. It is a time to commemorate the teachings and example of these two great human beings. There will be many events in cities throughout North America during this time to educate, inspire, and celebrate nonviolence, and I hope that we can all begin to realize and reduce the immense violence we commit towards animals used for food, and help raise consciousness in our culture that nonviolence begins on our plates. As I discuss in The World Peace Diet, if we yearn to contribute to peace, a terrific
opportunity for all of us is to move ever closer to a vegan way of being in the world, and spread the word to others through our efforts and example. Veganism is radical inclusion–including all sentient
beings within the sphere of our compassion. King said, "Violence anywhere hurts everyone everywhere," and Gandhi's basic entreaty was to "Be the change you want to see in the world." These two teachings point to the interconnectedness of all of us, and to the necessity for an awakening to this truth at the daily life level.
With the new administration of Barack Obama, there is still a palpable sense of relief and optimism in the air, even in the midst of what everyone recognizes are enormous challenges. We must never forget that all change comes from the grass roots, and that Presidents are under enormous pressure from the plutocracy to divide, exploit, and confuse. As we insist on peace, justice, sustainability, and equality, and live these values in our lives and communicate them as best we can through all levels of our culture, we will see our leaders responding. I highly recommend boycotting not only the meat,dairy, egg, and other animal abuse industries, but also the pharmaceutical-medical complex and the mass media. Getting news from alternative sources is empowering and illuminating! There are so many, and they are proliferating!
Some good news! A colleague who lives in Chicago and works out in the same gym where Obama also used to exercise, saw him on the last day he was in the gym in late December, and gave him a copy of The World Peace Diet! I had signed it specifically to Obama, and she was able to put it right into his hands, as he smiled and graciously received it! The next day, he and his family left for their Hawaii vacation, and from there went to Washington, DC and the inauguration. Thanks to the angels for this minor miracle, and please, if you have time, write to Barack Obama and Michelle Obama and recommend that they read The World Peace Diet and go vegan as an example of the "Yes We Can" and
"Change" themes we have been hearing so much.
A few days ago, a film crew from Supreme Master Television (www.suprememasterTV.com) came down to our rolling home by the edge of the Atlantic here in the Florida Keys and filmed an appeal that I made, urging President Obama and all leaders to switch to an organic, whole foods vegan diet to exemplify their willingness to be the change, and to encourage others to do the same. It is gratifying to see that there are leaders at various levels of government who are courageously urging people to switch to plant-based eating, and are doing it themselves. Please thank them and encourage others also! Also, if you are involved with or interested in the Unity movement, there is an interesting new video that Supreme Master TV has created about the Unity Movement and vegetarianism, entitled, "The Unity School of Christianity and Spiritual Vegetarianism," Part 1 and Part 2. It is eye-opening and encouraging, and is internationally translated and televised, like all SMTV content. Here's the link:
http://preview.tinyurl.com/co6dnm
Some more good news! Sales of The World Peace Diet broke new records in 2008, and it was again, for the second year in a row, the #1 best selling book of New York's Lantern Books (out of 150 books). It will
be going into its fifth printing soon, which will include the long-missed index! In the meantime, you can always download the index for free from our website. The book is still $20, signed, including a
free CD and Madeleine's Intuitive Cooking, and there are also several quantity discounts available as well. We also have the book available as an audio book for $20 (physical) or just $15 to download to your computer. Before too long, it'll be available as an audio book on iTunes as well. See http://worldpeacediet.org for details.
There's even more good news! Increasing numbers of people are facilitating study courses and book study groups on The World Peace Diet in cities around North America – and our two leading facilitators, Mark Stroud and Anna Ferguson in Cincinnati are working with a new 501(c)3 non-profit called A.P.E. – Animals, People, Earth -to promote the World Peace Diet in Cincinnati and beyond by encouraging book study groups nationwide, opening a vegan restaurant in Cincinnati, developing a line of vegan foods, and sponsoring a vegan yoga conference in Cincinnati in October of 2009 called, you guessed it, the World Peace Yoga Conference – see you there! For more information on all this, go to: www.worldpeacediet.org/APE.htm.The conference will feature Gabriel Cousens, Andrew Harvey, Sharon Gannon, and many other leaders in the yoga, spirituality, and vegan movements.
And one more thing! Please consider joining us on the vegan Caribbean cruise called the Taste of Health Cruise, leaving from Fort Lauderdale on March 1 until March 8, featuring T. Colin Campbell, Neal Barnard, Christina Pirello, Isa Chandra Moskowitz, and others. For more information,
http://www.atasteofhealth.org/events/presenters.htm
. That same week if you're in L.A., Gabriel Cousens & Michael Beckwith are putting on an 8-day vegan juice fast for peace. See
http://www.juicefastforpeace.com
.
Finally, please join the forums and discussion groups at www.worldpeacediet.net, and feel free to sign up for our free daily "Veg Inspiration For The Day" at www.worldpeacediet.org and/or the Worldwide Prayer Circle For Animals at www.circleofcompassion.org. Also please remember that our continuously updated tour schedule is posted on our website: www.willtuttle.com/schedule.htm. If you would like to host us in your community, please let us know! Some upcoming highlights are speaking in W. Palm Beach at Hippocrates Health Institute in February, in Los Angeles at the Green Lifestyle Film Festival in March, and in London for the International Veggie Show and the Jain Convention in April. There are many other upcoming events planned in Florida and the eastern U.S., including my piano concerts with Madeleine's art exhibits, intuition workshops, Sunday morning services, individual sessions for music & art, etc.
A big thank-you to all of you who are working diligently to raise consciousness on this Earth. You are making a difference! We are all connected. Bless you all!
That's it for now.
Love and peace,
Will & Madeleine