Latest News
Audio discussion of Asian Lecture Tour by Dr. Tuttle
2016 Vegan For Life Lecture Tour – All Year – both U.S. & international
Interview with Lee Fulkerson of PlantPure Nation (and Forks Over Knives) – He said it holds the record for the most listens on their website …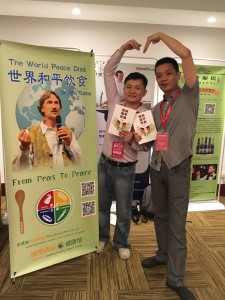 Chinese version of The World Peace Diet released in mainland China, June, 2016
Dr. Tuttle's Ireland Lectures, Interview, and Visit 
Dr. Tuttle's Visit to Ireland Summarized in this All-Creatures article
The Compassion Project Film (trailer), featuring Dr. Tuttle's work.
Dr. Tuttle's Video Interview in The Real Truth About Health Conference. His lectures and panels also videotaped – click here and sort by author.
Dr. Tuttle included in List of 15 Holistic Visionaries.
The World Peace Diet included in this list of 6 Books that are Required Reading. 
Dr. Tuttle's interview, "Holocaust of the Animals," with Alex Smith of Radio EcoShock.
Article in the Santa Fe Reporter newspaper.
Dr. Tuttle's lecture in St. Pölten, Austria (with German translation).
Dr. Tuttle & Madeleine speak and answer questions for World Peace Diet Sunday with Lily Macy.
Dr. Tuttle's interview on ACT (Animal Concerns of Texas) Radio.
Audio Interview with Dr. Tuttle about the social and spiritual ramifications of The World Peace Diet. With Walter Jacobson, MD and Elizabeth Hamilton-Guarino on "Best Ever You Radio"
Dr. Tuttle's interview about the release of Circles of Compassion, which he edited.
World Peace Meditations CD, by Will Tuttle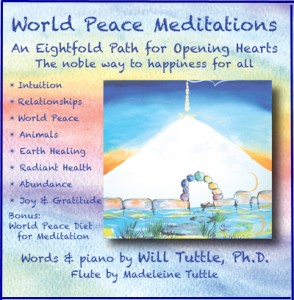 A new CD of guided meditations, with words and piano music composed by Dr. Tuttle, is being released on January 1st, 2015. It will be available for pre-order on iTunes and on this site soon! It features original flute music by Madeleine Tuttle. World Peace Meditations: An Eightfold Path for Opening Hearts presents eight meditations, following a short opening preparatory meditation: 1) Developing Intuition 2) Harmonious Relationships 3) World Peace 4) Animal Relations 5) Earth Healing 6) Radiant Health 7) Abundance 8) Joy & Gratitude.
There is an additional 22-minute meditative/musical reading: "World Peace Diet for Meditation," which provides some particularly poignant and inspiring quotations from Dr. Tuttle's award-winning book, The World Peace Diet, accompanied by original music.
2015 Release: Circles of Compassion, edited by Will Tuttle
We are delighted to announce that the new book edited by Dr. Tuttle, Circles of Compassion: Connecting Issues of Justice, is being officially released on January 1st, 2015. It is possible to pre-order the book on Amazon now.
Circles of Compassion can also be ordered through Vegan Publishers, the book's publisher. See this site and the Amazon page for more information about this inspiring book that provides an empowering view into the many intersections among the social justice issues we face today.
One Response to Latest News