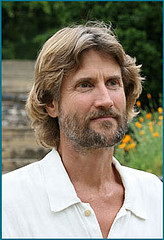 Dr. Will Tuttle, author The World Peace Diet
Dr. Will Tuttle is an award-winning speaker, educator, author, and musician. His music, writings, and presentations focus on creativity, intuition, and compassion.
On this website, you can find out more about Dr. Tuttle's book, The World Peace Diet, about his original piano music, about his seminars and retreats on developing intuition, compassion, and meditative equanimity, and about the individualized music and art portraits he does with his spouse Madeleine.
The World Peace Diet has been called one of the most important books of the 21st century: the foundation of a new society based on the truth of the interconnectedness of all life. Dr. Tuttle is currently giving a series of lecture presentations around North America on The World Peace Diet.
See the Tour Schedule for details.
Daily VegInspiration
Will Tuttle : April 18, 2014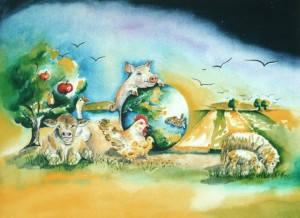 VegInspiration
The most solid and enduring motivations for action are ultimately based on caring for others—in this case imprisoned animals, wildlife, starving people, slaughterhouse workers, and future generations, to name some of those damaged by our desire for animal foods. The health advantages of a plant-based diet are the perquisites of loving-kindness and awareness, and the diseases and discomfort caused by animal foods are some of the consequences that follow from breaking natural laws.
Prayer Circle for Today
Today let us send our prayers and love to all aquatic animals.
May compassion and love reign over all the earth for all the water beings living in the seas, lakes, and rivers. Dear fish, whales, dolphins, crabs, lobsters, starfish, jellyfish, shrimp, coral, and all the other amazing beings who make the waters of earth their home.
Your homes and your very lives are being devastated by huge fishing fleets, by trash, oil, sewage, runoff, and other poisons dumped into your waters, by cutting off your fins, and by capturing you and your loved ones for aquariums and the pet trade.
Together, we bear witness to your suffering, take action to end it permanently, and send out an energy field of love and compassion to comfort you and to transform the hearts and souls of those who support this violent oppression.
Our love is all around you. Compassion encircles the earth for each of you and for all beings.
( 7 daily prayers by Judy Carman www.peacetoallbeings.com)
www.worldpeacediet.com – our daily VegInspiration For The Day
www.circleofcompassion.org – our Prayer Circle For Animals Weekly Update
www.facebook.com/groups/prayercircleforanimals – our Prayer Circle For Animals Facebook Group
www.worldpeacemastery.com - our online self-paced WPD Facilitator Training
www.facebook.com/groups/worldpeacediet – our WPD Facebook Group
Original watercolor painting by Madeleine Tuttle madeleinetuttle.com