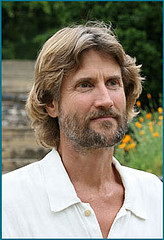 Dr. Will Tuttle is an award-winning speaker, educator, author, and musician. A vegan since 1980, his writings, music, and presentations focus on compassion, creativity, intuition, and the intersectionality of social justice, animal liberation, and environmental, health, spiritual, and peace issues.
On this website, you can find out more about Dr. Tuttle's book, The World Peace Diet, about his writings and teachings promoting compassion and justice for nonhuman animals, and there are also links to his original piano music, his seminars and retreats on developing intuition, altruism, and meditative equanimity, and about the individualized music and art portraits he does with his spouse Madeleine.
The World Peace Diet has been called one of the most important books of the 21st century: the foundation of a new society based on the truth of the interconnectedness of all life. Dr. Tuttle offers lecture presentations, workshops, and trainings internationally on The World Peace Diet, veganism, spirituality, effective activism, meditation, and intuition development.
See the Tour Schedule for details of upcoming events.
Daily VegInspiration
Will Tuttle : July 29, 2014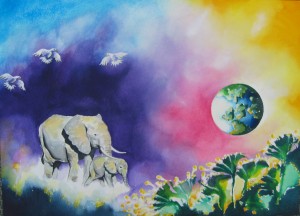 VegInspiration
We are interconnected with all other manifestations of consciousness, and at a deep level we are all united because we share the same source. This source is the infinite intelligence and consciousness that permeates and manifests as phenomenal reality.
Prayer Circle for Today
Today, let us send our prayers to all farmed animals.
May compassion and love reign over all the earth for all farmed animals―Dear ducks, geese, turkeys, chickens; cows, pigs, lambs, bison, elk, deer, and all of you who are suffering today in tiny cages or crowded into feedlots, being beaten, fed poisoned and unnatural food, and for those of you languishing without water or food on trucks or entering the slaughterhouses.
We bear witness to your suffering, we take action to permanently end it, and we continually send out an energy field of love and compassion to comfort you and to transform the hearts and souls of those who support this violent oppression. We send our tears and our prayers on wings of love to you.
Compassion encircles the earth for each of you and for all beings.
( 7 daily prayers by Judy Carman www.peacetoallbeings.com)
www.worldpeacediet.com – our daily VegInspiration For The Day
www.circleofcompassion.org – our Prayer Circle For Animals Weekly Update
www.facebook.com/groups/prayercircleforanimals – our Prayer Circle For Animals Facebook Group
www.worldpeacemastery.com - our online self-paced WPD Facilitator Training
www.facebook.com/groups/worldpeacediet – our WPD Facebook Group
Original watercolor painting by Madeleine Tuttle madeleinetuttle.com