Your Inner Islands
Your Inner Islands
The Keys to Intuitive Living
By Will Tuttle, Ph.D.

Your Inner Islands is a narrative adventure to help readers develop intuition and the full flowering of joy, wisdom, and creativity. Based on Dr. Tuttle's Ph.D. research at U.C., Berkeley, this book takes the reader on an empowering and illuminating journey to more fully developed intuitive wisdom.
Your Inner Islands is based on an ancient spiritual metaphor of crossing the ocean of conditioned awareness to reach the Other Shore: a higher state of intuitive wisdom. Crossing the ocean, there are six islands, each providing keys to developing intuitive wisdom. These inner mythical Islands of Light are: 1) Understanding, 2) Energy, 3) Meditation, 4)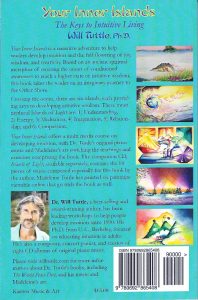 Imagination, 5) Relationship, and 6) Compassion.
Your Inner Islands offers a multi-media course on developing intuition, with Dr. Tuttle's original piano music and Madeleine's art enriching the teachings and exercises comprising the book. The companion CD, Islands of Light, available separately, contains the 18 pieces of music composed especially for this book by the author. Madeleine Tuttle has painted six paintings viewable online that go with the book as well.
The Your Inner Islands book is available through Amazon and also on Kindle, and is available, signed by the author, through this website.

The complete downloadable Your Inner Islands Course on developing intuition, including the text of the book, as well as all 18 tracks from the accompanying CD, Islands of Light, and the accompanying 6 paintings by Madeleine, is also available here.
Dr. Will Tuttle, the author, is a former Zen monk with a Ph.D. from the University of California, Berkeley, focusing on educating intuition in adults. A best-selling and award-winning author, he has been leading workshops to help people develop intuition since 1990. He's also a composer, concert pianist, and creator of eight CD albums of original piano music.
"There is an archetypal dream in all of us to sail away to our own lost tropical island. The Tuttles take us there in an allegorical journey of discovery. They teach us how to make our home in that world of our dreams. Dr. Tuttle's inspiring music and wise guiding words along with Madeleine Tuttle's unique mystical art carry us with them in the awakening and quickening of our intuitive faculty. They lead us from our head to our heart. It is a remarkable presentation and an amazingly effective process." — Rev. Evelyn Casper, Minister Emeritus, Unity of Key West
Review by C. McClarnon, BC, Canada:
"Will Tuttle, author of the world-renowned book The World Peace Diet, has published a seminal companion book Your Inner Islands: The Keys to Intuitive Living, together with his wife Madeleine, who produced the visionary art for the book.  A companion CD, called Islands of Light is also available, to enhance the experience of the book.  Both books (and the companion CD), together, offer a comprehensive guide to transforming ourselves into vibrant beacons for world peace and personal health and joy.  While Your Inner Islands extends ideas brought forth in The World Peace Diet, it is also a stand-alone inspirational book for individuals who have not yet read The World Peace Diet.
"Building upon The World Peace Diet foundational solutions to the moral, social, health and environmental problems that besiege our global landscape, through simple but profound changes to our own lifestyles, Your Inner Islands then reaches deeper into our internal landscape, to help us mindfully develop our personal strengths and become powerful positive forces that influence the societal changes needed to bring our world towards a state of harmonious peace.  Both books impress upon us the imperative for cultivating compassionate reverence for all life forms.  Many of us, after reading The World Peace Diet become inspired to make transformative changes to our lives.  Your Inner Islands offers, through beautiful metaphors, art, and music, uplifting meditative practices designed to tap into, and release, our inner creativity and intuition, and we become confident in using our inner wisdom as our own guidepost in helping people, worldwide, to re-create a more peaceful and loving world for humanity and for all life on our shared earth. 
"While The World Peace Diet inspires us to establish a spiritually-grounded living, Your Inner Islands helps us deepen our spiritual practice from within so that we become one with the glorious cosmic force that shapes all existence.  Both books are life changing, penned by an enlightened Zen Dharma Master, who, along with his wife, practices exemplary global leadership in compassionate ethical living such that, if everyone were to live by their example, the entire world would transform overnight, into one where love and other beings and beauty and peace are honored and cherished and never violated.  Each of us yearns for this kind of life, and both complementary books help bring us closer to helping the Tuttles co-create a beautiful path that leads to world peace and deep personal fulfillment."