Lectures
World Peace Diet Lecture Presentations and Workshops
Visionary educator Dr. Tuttle presents lecture events both in North America and worldwide promoting peace, compassion, vegan living, and discussing the transformative ideas in The World Peace Diet.  A 43-year vegan, Dr. Tuttle has been inspiring audiences for over 35 years, and has delivered over four thousand lectures, classes, workshops, and concerts in all 50 U.S. states and 50 countries.
His presentations offer a uniquely broad and deep understanding of the profound consequences of our culture's routine mistreatment of animals for food and other uses. Dr. Tuttle is committed to raising awareness about the interconnections between animal liberation and social justice, peace, health, ethics, spirituality, and environmental sustainability. His presentations often include original piano music as well as evocative animal paintings by his spouse, Madeleine, a Swiss visionary artist, Waldorf educator, organic gardener, vegan chef, and artisan.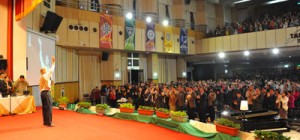 Please contact us for information about presentations for conferences, festivals, groups, college classes, and retreats, or for radio, TV, or documentary presentations, either live or via Skype.
Click here for a sample flyer of Dr. Tuttle's World Peace Diet lecture presentation. There are a variety of other titles and themes Dr. Tuttle can address as well, including cultural awakening, developing intuition, meditation, music and healing, cross-cultural and spiritual approaches to wellness and thriving, and the keys to effective vegan advocacy. The presentation schedule is being continually updated. We also have videos of his presentations.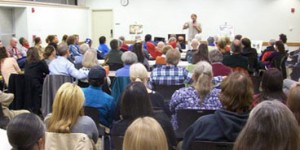 Thanks for your interest in spreading the message of compassion, justice, health, and The World Peace Diet!
Dr. Tuttle's acclaimed vegan education programs: The World Peace Diet online Mastery and Facilitator Training programs and monthly World Peace Diet Circle teleconference Q&A gatherings.
What people are saying about Dr. Tuttle's presentations on The World Peace Diet:
"I've never seen an audience so attentive and enraptured as when Will Tuttle speaks about his book, The World Peace Diet. By the end of his talk we are all transformed by the profound truth of his message and mission." — Tench Phillips, president, Art Repertory Films, Norfolk, VA
"Thank you, Dr. Tuttle, for blessing us with your passion and compassion, your music, your art and your crucial message. What you are creating, what you are proposing, what you are teaching are revolutionary in the best and most positive sense. The Earth and all its inhabitants really need you." —  Sharon Hall, Coordinator, Unitarian Universalist Animal Ministry in Albuquerque, NM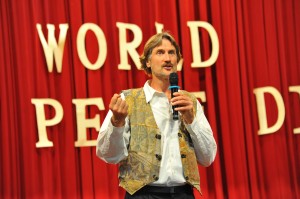 "A deeply peaceful, highly energetic and engaging speaker." — Patti Breitman, noted author and founder, Marin VEG.
"Dr. Will Tuttle is an inspirational force. I attended his lecture recently expounding on his book The World Peace Diet. The energy and expressions that I witnessed in the room around me were monumental upon listening to his exploration of our daily food and its moral origins. Something profound happened in the room that night. I think that people who had eaten meat their entire lives found themselves coming to a shocking revelation about the origins of their food and the implications of it in our culture and world." — Jerrilyn Halbert, Vegan World Radio, Houston, TX
"Will Tuttle is a resounding voice for the voiceless. His holistic approach to world peace is articulated eloquently with passion, humor, and intelligence. He is the Zen master of connecting the dots of spirituality, environmentalism, animal liberation, and health. He ties all four of these areas together brilliantly via a fact-based lecture that clearly shows that we have the opportunity to be happy, healthy, evolved stewards of the planet. When he spoke to our packed house, his message of hope, peace and empowerment resonated with our members as well as many of our visitors that night." — Joe Walsh, President, The Asheville Vegetarians
"Dr. Will Tuttle is, without exaggeration, one of the most thoughtful speakers that I have ever come across. He is convincing in so many ways. Dr. Tuttle patiently explains the connection between the way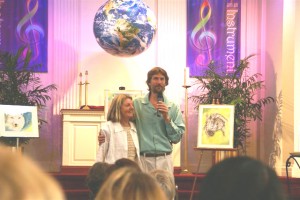 we treat animals and the way we treat each other, ourselves, and the environment. He answers questions about the vegan lifestyle in professional yet conversational style. His information is realistic in detail, but instead of leaving you feeling defeated by the enormous task at hand, he opens up a world positive outcome." — Carolena Nericcio, director, Fat Chance Belly Dance Studio, San Francisco, CA and Carolena's Little Vegan World
"We just had Dr. Will Tuttle, author of The World Peace Diet, at our church and his loving talk touched some of the most adamant animal flesh consumers, resulting in a Vegan Lifestyle and Food Prep/Cooking Class with a waiting list! I highly recommend him for all venues." — Tom McCracken, Unity of Gainesville, GA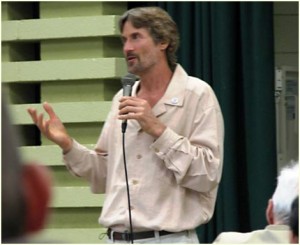 "If there is one lecture you attend this year, make it Dr. Tuttle's lecture on The World Peace Diet. I left the lecture feeling uplifted and illumined. He helped me see how many of the world's problems are related to food, and how each one of us can help bring about change simply by consciously choosing what we eat. If you're seeking inspiration, insight, and transformation for yourself and the world around you, Dr. Tuttle will take you down that path with compassion and understanding. He embodies the compassion he seeks in the world. He masterfully weaves together spirituality, psychology, culture, and economy as they relate to our food choices and the profound implications for our future. Like a good movie that gives you ideas to think about long afterwards, you'll feel enriched having heard this presentation. He will entertain, inspire and challenge you to think about food and our culture in a whole new way." — Lin Bernhart, Board member, Oregon Animal Sanctuary, Ashland, OR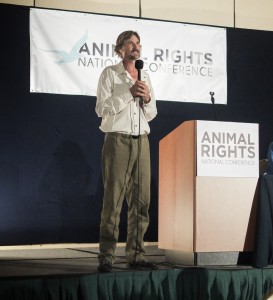 "In Roanoke, Virginia, I attended Will Tuttle's talk on The World Peace Diet. His book and talk will transform your consciousness and change your life. You will see how humans and other animals are affected emotionally and spiritually by the food choices we make. You will see the relationship between animal exploitation and human dysfunction of a global scale. After hearing Dr. Tuttle, you will not feel that you have to adopt an animal-free diet; you will want to adopt one. This is because you will see that only then can we begin to experience a taste of limitless, transcendent love." — Susan Thomas, Professor of Gender and Women's Studies, Hollins University; Unitarian-Universalist Church of Roanoke
"It was a pleasure and an honor to have Dr. Tuttle present to our group! He is a gifted author and impassioned speaker who enlightens and inspires his listeners. In these turbulent times, it is more critical than ever that his World Peace Diet message be heard by all." — Lin Silvan, Executive Director, Eugene Veg Education Network, Eugene, OR
"I think everyone who heard Will Tuttle speak on his amazing vision of creating a more peaceful world was deeply touched. It was such a pleasure to meet him and learn from all that he had to share. The harmony within him radiates from his presence alone." — Tom Progar, President, Eastern Michigan University Students for Animal Rights, Ann Arbor, MI
"I hosted a very large book signing/lecture for Will Tuttle last year and the audience of 100 was glued to his every word. The ideas he presents are the most important of our time and reveal how we can all eat for spiritual harmony and world peace." — Kristen Ohanyan, Founder, Society of P.E.A.C.E., Houston, TX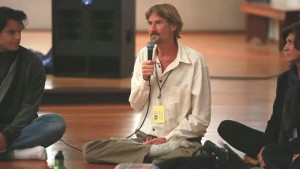 "Dr. Tuttle spoke recently as a guest lecturer for the Personal and Family Courses I teach at the University of Florida, which hold an enrollment of 100 students per class. I found him to be the ideal speaker to lecture on the topic of eating an animal-free diet and lifestyle to the college-aged population. He gave an eloquent lecture on this topic from the perspective of the cultural, spiritual, psychological, and social implications of consuming a plant-based diet. The most profound impact Dr. Tuttle's lecture had on my students was the manner in which he was able to open their eyes to the reality of being raised in a culture driven by invisible assumptions. Dr. Tuttle helped to awaken many of my students to the illusions they had unwittingly bought into. Many students informed me after his visit they had decided to go vegetarian or vegan because of his powerful message of compassion. I am proud to recommend Dr. Will Tuttle to speak on this topic to any audience, especially college-aged students. His powerful message is only rivaled by his heartfelt passion for enhancing the quality of life not only for people, but for all sentient beings." — Anthony Delisle, University of Florida, Gainesville, FL
"We were all inspired and impressed, and you changed the way we think and view the world and even our culture and history. I have a doctorate in music and your piano playing made me cry. Your talk made me cry. It was a great evening: emotional, artistic, thought provoking, spiritually challenging and so true. Remarkable!" — Mike Curtis, founder, Yoga Central, Canton, OH
"Though I've been a vegan for thirty years, when I completed reading The World Peace Diet, I was as inspired and enthusiastic as if I had just become a vegan for the very first time. That inspiration led to assisting in scheduling Will Tuttle to speak on The World Peace Diet six times in five days in Cincinnati, in venues ranging from Xavier University to a Unity Church to the regional headquarters of the EPA and more. Over five hundred hungry, compassionate souls heard Dr. Tuttle speak the powerful and transformative message of The World Peace Diet and now seeds of a practical 'blueprint for peace' in the world are planted in their hearts." — Mark Stroud, award-winning chef and restaurateur, Cincinnati, OH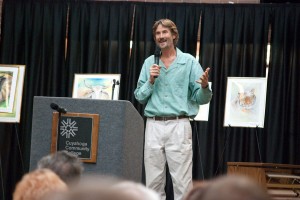 "Through his World Peace Diet lectures, Dr. Will Tuttle effectively sheds light on the connections between mindful food choices and nonviolence, effecting an inescapable evolution of thought for each and every listener." — Joyce DiBenedetto-Colton, MS, CHES, Earth Ethics Institute, Miami Dade College
"Dr. Tuttle encourages us to open our hearts to deeper understanding, to enlarge our circle of compassion to include more and more 'others.' One cannot help but be profoundly affected by the ideas in his lecture and book, The World Peace Diet. After attending Dr. Tuttle's lecture, you will have a 'take away box' that will nourish you for a very long time." — Anna Sylvester, Unitarian Universalist Church, San Francisco, CA
"Will's lecture on his book, The World Peace Diet, informed me of practices within the animal industry of which I was not aware. His argument making a connection between the violence we inflict on animals and the violence which is wreaking havoc on our world is compelling." — Donna Morin, Unitarian Universalist Church, Wrentham, MA
"Loved it! Dr. Tuttle's presentation was amazing. It really motivated both me and my husband to keep going in this way of life we've chosen. Very deep and it gave us a lot to talk and think about."  — Paula Norris, Las Vegas, NV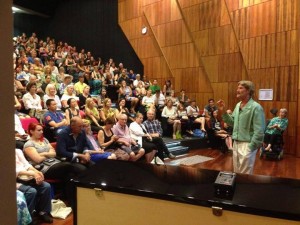 "Last year we were fortunate to have Dr. Will Tuttle come to our church and speak on his most educational book, The World Peace Diet. His talk really helped people to understand how the choice of a vegan diet helps in three major areas: respect for animals, improvement of our health, and the creation of a more healthy planet. We are hoping to bring Dr. Tuttle back soon." — Bill Landauer, Chair, Unitarian Universalists for the Ethical Treatment of Animals, Palo Alto, CA
"Will Tuttle beautifully shares critical facts along with his personal experience regarding the importance of adopting a vegan lifestyle. He understands the profound significance of ahimsa–non violence—and articulates it in such a comprehensive way that any good-hearted meat-eater will be deeply moved to consider a better way…for ourselves and our planet." — Jonathan Glass, Healing Essence Center, Concord, MA
"I brought author Will Tuttle into my church to give a lecture on his book The World Peace Diet. He challenged us to examine our values and our daily food choices for congruency. When he said, 'You would not eat your dog, yet you will eat a cow because you see your dog as worthy of love and a cow as a commodity,' I could no longer justify asking a living being to give its life for me so I could eat what I wanted. Since that time, I have experienced a freedom and a deep connection to all living things. My daily food choices are now congruent with my reverence for life. It is a wonderful way to live. And there are great vegan recipes out there now as well so we don't have to sacrifice flavor or enjoyment." — Rev. Felicia Searcy, Unity minister
"Not only is Dr. Will Tuttle a wonderful speaker, but a great person as well. Reading his book, The World Peace Diet, is a life-changing experience. I think many benefit from hearing him expound on the ideas in his book." — John Cielukowski, President, Healthy Planet of Brevard County, FL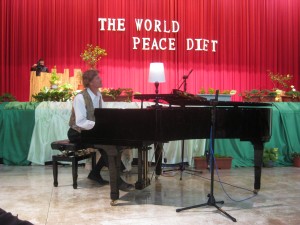 "Will Tuttle captivated our group throughout his talk as he shared, informed, and challenged us. I thought I had grasped the 'big picture' of processing animals into food, but Will ran the gamut—from ancient history, culture, environment, health, spirituality, and beyond—to incisively make so many new and empowering connections. He also offered us helpful advice and encouragement for social and personal challenges. I want everyone to hear Will and read The World Peace Diet!" — Deborrah Hoag, S.A.V.E. (Saving Animals via Education), Jacksonville, FL
"World peace seems to be a daunting, unattainable ideal. But I found that Dr. Will Tuttle can demonstrate in a clear, compassionate, and convincing way how a shift in our food choices as a society could lay new foundations for world peace. His presentation is well documented and empowers people to rise to a higher level of personal and social consciousness." — Sharon Jacks, Murfreesboro, TN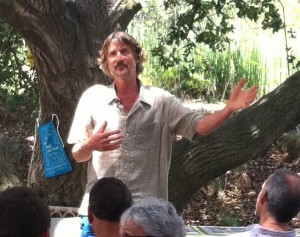 "Will Tuttle has keyed into some vital truths about our eating habits as human beings and how they affect our lives and our world. He shares simple yet astonishing facts that can make the listener think in a way that results in a healthier lifestyle for the individual, for society, and for all living things. As a Unity minister whose vegetarianism was inspired by the teachings of Charles Fillmore, I recommend this important message for those who are seeking to deepen their practices of compassion and benefit from healthy living." — Laura Barrett Bennett, Unity Minister
"If you are hungry for a solution to the violence, environmental destruction and health challenges facing people in the world today, be prepared to leave Dr. Tuttle's talk on The World Peace Diet feeling well-informed about the answer, and inspired and empowered to be a part of it." — Gretchen Chlebowski, Creator, ChooseKindness.com, Oak Park, IL
"We were fortunate enough to have Will Tuttle give a presentation here in Wichita and it was wonderful! It was really nice to have an outside person speak so eloquently on veganism. I have had numerous positive comments about the presentation. One man, a relative newcomer to our church, said that he was so moved by the presentation that he felt compelled to go veg, and even offered his house for the local veg Thanksgiving potluck. After meeting the local veg meetup organizer, we have also been discussing having potlucks and video showings at the church. I am really excited about the connections that were made and the networking that was done. I would like to encourage everyone (especially those who have not yet had the opportunity to hear him talk) to invite Dr. Will Tuttle to speak to your congregation." — Diane Waltner, First Unitarian Universalist Church, Wichita, KS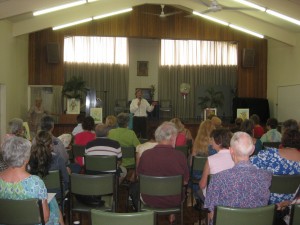 "Dr. Will Tuttle gave an excellent presentation and lots of insight about his philosophy as depicted in his path-setting book. He and his wife are wonderful people who have made it their mission to transform our future into a place of happiness, peace, and compassion towards all living creatures. I recommend his lectures and book to everyone!" — Ina Mohan, Veg Meetup, Las Vegas, NV
Sarasota, FL presentation.