Buddhism & Veganism
Buddhism and Veganism:
Essays Connecting Spiritual Awakening and Animal Liberation
Edited by Dr. Will Tuttle
"We encourage you to read this profound and inspiring collection of teachings, and to do it as a meditation." – Dr. Joel & Michelle Levey, founders, All My Relations Sangha
Many of us are surprised to discover that Buddhist monks, lamas, and teachers often eat the flesh and secretions of animals. What is the underlying relationship between Buddhism and veganism?
Can we awaken spiritually and morally while participating in our culture's ongoing abuse of animals for food and other products? Do the Buddhist teachings require or even explicitly encourage vegan living, or is veganism seen as a personal choice?
As Buddhism continues to spread, and as interest in veganism is burgeoning, these questions are heating up and call for a more thorough investigation.
Buddhism & Veganism (Vegan Publishers;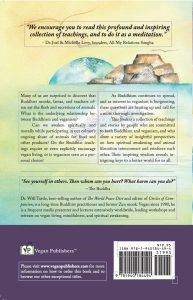 250 pages with zen brush paintings; $20) is available on Amazon in both print and Kindle versions.
It is a collection of teachings and stories by respected Buddhist teachers and writers who are also practicing vegans, drawn from Theravada, Mahayana, and Vajrayana traditions.
The volume is edited by Dr. Will Tuttle, and features a wide variety of perspectives connecting spiritual awakening with cultivating compassion for all beings and the importance of animal liberation for human evolution. The book also features original Zen brush paintings by Madeleine Tuttle.
The 22 essays in this book provide a diversity of insightful perspectives on how spiritual awakening and animal liberation interconnect and reinforce each other. Their inspiring wisdom reveals intriguing keys to a better world for us all.
"See yourself in others. Then whom can you hurt? What harm can you do?" – The Buddha
Buddhism & Veganism (Vegan Publishers, 2019), is available on Amazon and other online and offline retailers, as well as in Kindle and other digital formats. Signed copies can be ordered here through our website.
Authors and Chapters in Buddhism & Veganism:
Joel & Michelle Levey: Foreword: Honoring the One Body of Life
Will Tuttle: Introduction: Do Buddhist Teachings Mandate Veganism?
David Blatte: Vegan Dharma
Tony Page: Buddhism and Vegetarianism: What the Sutras State
Jun Gong: Vegetarianism in Chinese Buddhism
Will Tuttle: Buddhism: The Hidden Thread
Marion Achoulias: Engaged Veganism and Interbeing with Other Animals
Heng Sure: Five Contemplations: A Mahayana Meal-time Blessing
Tracey Glover: Compassion: The Heart of the Buddhist Teachings
Joanne Cacciatore: Descending into the Canyon: A Heart Broken Open
Sherry Morgado: Awakening of the Heart
Ven. Xianqing: Eat Your Way to Wisdom
Vicki Seglin: May All Beings Be Happy
Paul Tarchichi: Birthday Crashing and Spiritual Awakening
Andrew Bear: Waking Up with Each Bite: Contemplations for Meals
Bob Isaacson: Where the Dharma and Animals Meet
Ariel Nessel:  One Man's Commitment to a Revolution of the Spirit
William DiGiorgio: Are Vipassana and Veganism Compatible?
John Bussineau: What is Negativity?
Alan Dale: Born to This World a Bodhisattva
Tashi Nyima: Dark Alleys and Bright Aisles
Will Tuttle: Conclusion: The Beckoning Path
Madeleine Tuttle: Tree Shadow Art Piece
Master MaChuo: Afterword: May All Life Be Loved