Bursting Light
Favorite Original Piano Solos by Will Tuttle
With
Visionary Paintings by Madeleine Tuttle
Featuring sheet music for 15 of Will's uplifting piano solos, and full-color prints of 25 of Madeleine's paintings.
(Special price, July 11-16, 2018: $22.00)
Music and art to heal, delight, and inspire, taking solo piano and watercolor into a new dimension.
This collection of sheet music of Will's original piano music provides a language of the heart available to all pianists, adorned with Madeleine's paintings that can deepen our connection to our inner vision, and the magnificence of our Earth.
The book also includes a complimentary link to access downloadable audio files for all 15 piano pieces that are in the book, so you can listen to them as played and recorded by the composer, Will Tuttle.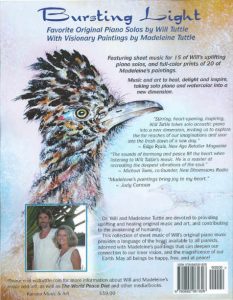 In addition to the music and paintings, there are pages with information about the artists and their lives and their approaches to their craft.
Bursting Light is available through Amazon and also on Kindle, and is available, signed by Will and Madeleine, through this website for $29 ($10 off list price).

Music has long been understood to open inner doorways of insight, healing, compassion, and communion. It is a language of intuition heard by our hearts.
Dr. Will and Madeleine Tuttle are devoted to providing uplifting and healing original music and art, and contributing to the awakening of humanity.
"The sounds of harmony and peace fill the heart when listening to Will Tuttle's music. He is a master at recreating the deepest vibrations of the soul."
— Michael Toms, co-founder, New Dimensions Radio
"Madeleine's paintings bring joy to my heart." — Judy Carman, noted author
"Will Tuttle has the amazing ability to play spontaneous meditational music that is truly uplifting. He has a unique style of his own, and he and the piano seem to become one in pouring forth melodious, uplifting music." — Peter Caddy, Co-Founder, Findhorn Community, Scotland
May all beings be happy, free, and at peace!