World Peace Meditation Package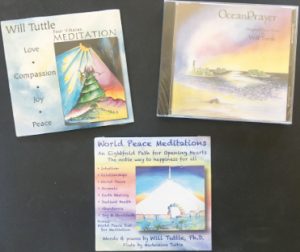 World Peace Meditation Package
Healing Meditations for Spiritual Awakening
Inner peace is the key to outer peace, and these three much-loved audio downloads teach time-tested, effective techniques for healing, inspiration, and inner peace.
This package provides 3 complementary meditation resources. Originally released as CDs, the 20 tracks include both guided meditations with relaxing music as well as pure unguided music for reflection, healing, peace, and inspiration.
We are offering these downloads at a discount (see below) in the spirit of helping to raise awareness so that we can co-create a world of peace, freedom, and abundance for all of us.  Our health is interconnected with our awareness and with our world.
These are the 3 resources:
First, Dr. Tuttle's acclaimed Four Viharas guided meditation, with two 22-minute tracks, one for beginning practitioners, and the second for more seasoned practitioners.
Vihara (Sanskrit), means abode, dwelling, temple, sanctuary, home. With this recording, you can work with Dr. Tuttle's elucidation of these 2,500-year-old keys to spiritual unfoldment in your own environment. This extraordinary recording of words, voice and specially-created piano music by Will Tuttle welcomes you to the ancient, timeless and potent practice of The Four Viharas: Love, Compassion, Joy and Peace.
Practice of The Four Viharas offers a path that has been tried and proven for over two thousand years to bring harmony to our feelings and daily lives. Part of the beauty of these techniques is that they can be carried out anywhere at any time. Regular practice of The Four Viharas will gradually transform your internal environment, healing and opening your heart to others and to all of life. It is especially powerful for transforming negative emotions, and cultivating both inner and outer peace.
Second, Dr. Tuttle's beloved OceanPrayer recording of original uplifting and meditative piano music, perfect for yoga, massage, and quiet contemplation. OceanPrayer rolls serenely through eight hauntingly touching pieces for solo piano. This album bears testimony that slow, relaxing music can also embody musical richness and vibrancy.
The all-original compositions flow on a water-cycle journey motif that draws the listener from bay to ocean depths; to clouds, rains, and rivers, and returning again, propelled and beckoned, always, by the subtle and mysterious power of the oceanprayer.
Third, Dr. Tuttle's World Peace Meditations recording, is especially created to use both during wakeful activities such as driving, as well as being excellent for relaxation and meditative inspiration. This Eight-fold Meditation created by Dr. Tuttle is for world peace for all of us, both inner and outer, and the eight meditations can be used individually or together.
These spoken meditations by Dr. Will Tuttle guide us gently into higher states of awareness and healing.
The Eight Meditations:
* Developing Intuition
* Harmonious Relationships
* World Peace
* Animal Relations
* Earth Healing
* Radiant Health
* Abundance
* Joy & Gratitude
From inner silence, peace, guidance, harmony, health, and loving kindness emerge naturally.
Meditation and affirmative prayer are ancient keys to wisdom, joy, abundance, love, and freedom. These are especially potent manifestations of these ancient wisdom traditions, practical for our lives today.
Dr. Tuttle's words are accompanied by original piano music in all seven ascending major keys by Dr. Tuttle.
Accompanied also with original silver flute music (and art) by Madeleine Tuttle. This Eightfold Meditation is a perfect way to begin & end a day – or any time – and reconnect with our spiritual essence.
Bonus: 22 minutes of inspiring quotes from Dr. Tuttle's The World Peace Diet – perfect for meditation and yoga practice.
"Hi Will, I just wanted you to know what a profound effect I have experienced since using your Four Viharas Meditation. I have practiced it so much that I just walk around radiating all the time! It has been so fun and so powerful that I just had to thank you." – Kelly H., Palm Springs, CA
"The wisdom of Will Tuttle, like his music, is breathtaking in its originality and transforming in its gentle truths. Every aspect of your life –body, mind and spirit– is about to be blessed by the words of this modern day mystic." — Judy Carman, author of Peace To All Beings
Separately, these three would be $35; in this download package, they are available for just $25.
Click here to order.