World Peace Diet Transformation Package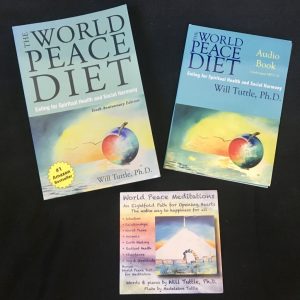 The World Peace Diet Transformation Package offers keys to optimizing  your physical, mental, and spiritual health, and also to contributing to healing our society and the Earth. It includes a copy of Dr. Tuttle's acclaimed international best-seller, The World Peace Diet, downloadable in both e-book and audio-book formats. Additionally, it includes his beloved audio guided meditation, World Peace Meditations, featuring his voice and original uplifting and relaxing piano music.
* Understand the hidden roots of our individual and collective problems to resolve them
* Learn how to thrive, building a solid foundation of health, and sharing effectively with others
* Connect with your inner wisdom and genius, and activate your healing potential
* Build harmonious, empowering, and joy-filled relationships
Purchased separately, these three downloads would be $39.00.
This is a special offer; this page is not to be shared with others – thanks!
You can access all three resources by simply filling in your information below:
The World Peace Diet – Audio Book – 13.5 hours long, read by the author
The World Peace Diet – PDF file – 300 pages, unabridged 10th Anniversary Edition
World Peace Meditations – 10 audio tracks – guided meditations for healing, awakening, and transformation
Let the awakening begin! Our health is interconnected with our awareness and with our world. Thanks for caring and participating in the World Peace Diet Transformation.
"I believe The World Peace Diet is the most important book of the 21st century. If you read but one book in your life, make it The World Peace Diet." –  Dr. James Macy, M.D.
"If you are hungry for a solution to the violence, environmental destruction, and health challenges facing people in the world today, Dr. Tuttle's World Peace Diet presentation will leave you feeling well informed about the answer, and inspired and empowered to be a part of it." – Gretchen Chlebowski, founder, Choose Kindness
"Use The World Peace Diet as a guide to empower yourselves and others in making dietary choices that are powerful beyond what you can possibly imagine." – Julia Butterfly Hill, noted eco-advocate